Introduce:

---
Sheet Metal Fabrication
Metal fabrication is the building of metal structures by cutting, bending, and assembling processes. It is a value added process that involves the construction of machines and structures from various raw materials. HongMingSheng has a multitude of value added processes in one plant or facility including welding, cutting, forming and machining. We start with CAD drawings including precise measurements then move to the fabrication stage and finally to the installation of the final project.
Sheet metal is used to manipulate materials to create a component that will be used in an end product. It involves a material being cut, formed and finished. Sheet metal fabrication is used in pretty much every sort of manufacturing field, notably in medical equipment, computers, electronics and appliances. Essentially, anything that is constructed out of or contains metal will have gone through these processes:
Cutting
There are a number of ways that sheet metal can be cut into smaller pieces – shearing involves a cutting machine using shear stress to cut down a large piece of material into smaller ones; electrical discharge machining (EDM) involves conductive materials being melted with a spark from a charged electrode; abrasive cutting involves the use of grinders or saws to cut through material; and laser cutting involves the use of a laser for achieving precise cuts in sheet metal.

Forming
After the metal has been cut, it will be formed into what shape is desired for the component it is needed for. There are several techniques of forming that can be used – rolling involves flat pieces of metal being shaped over and over with a roll stand; bending and forming involves the material being manipulated by hand; stamping involves the use of tools to stamp designs into the sheet metal; punching involves holes being put into the surface; and welding involves one piece of material being joined to another using heat.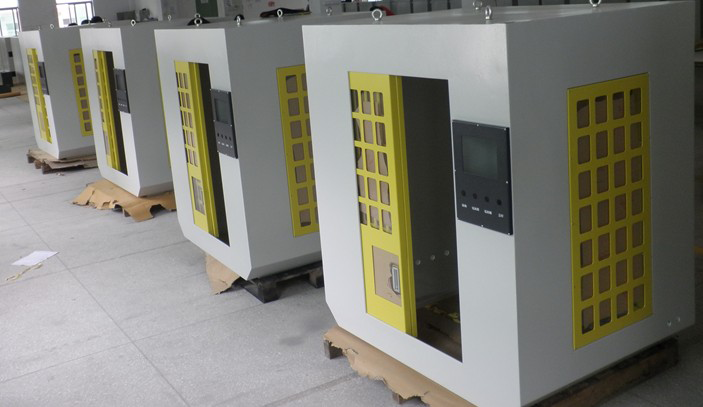 Finishing
Once the metal has been formed, it will be passed through a finishing process to ensure it is ready for use. This will involve the metal being sharpened or polished with an abrasive to remove or eliminate rough spots and edges. This process may also involve the metal being quickly cleaned or rinsed to ensure that it is completely clean when it is delivered to the factory for its intended purpose.
As you can see, sheet metal fabrication is highly important in the creation of any component that contains metal. If you do not have the time or the resources to fabricate your own materials, you can aks HongMingSheng to do this for you.
Please send me more details such as SolidWorks or ProE or CAD or PDF drawings,I will get back to you by quote and discuss more details solutions for your project very shortly.Contact us and just send us your drawing , most competitive quotation will provide for you with our best service.